The members of the 2023 Jury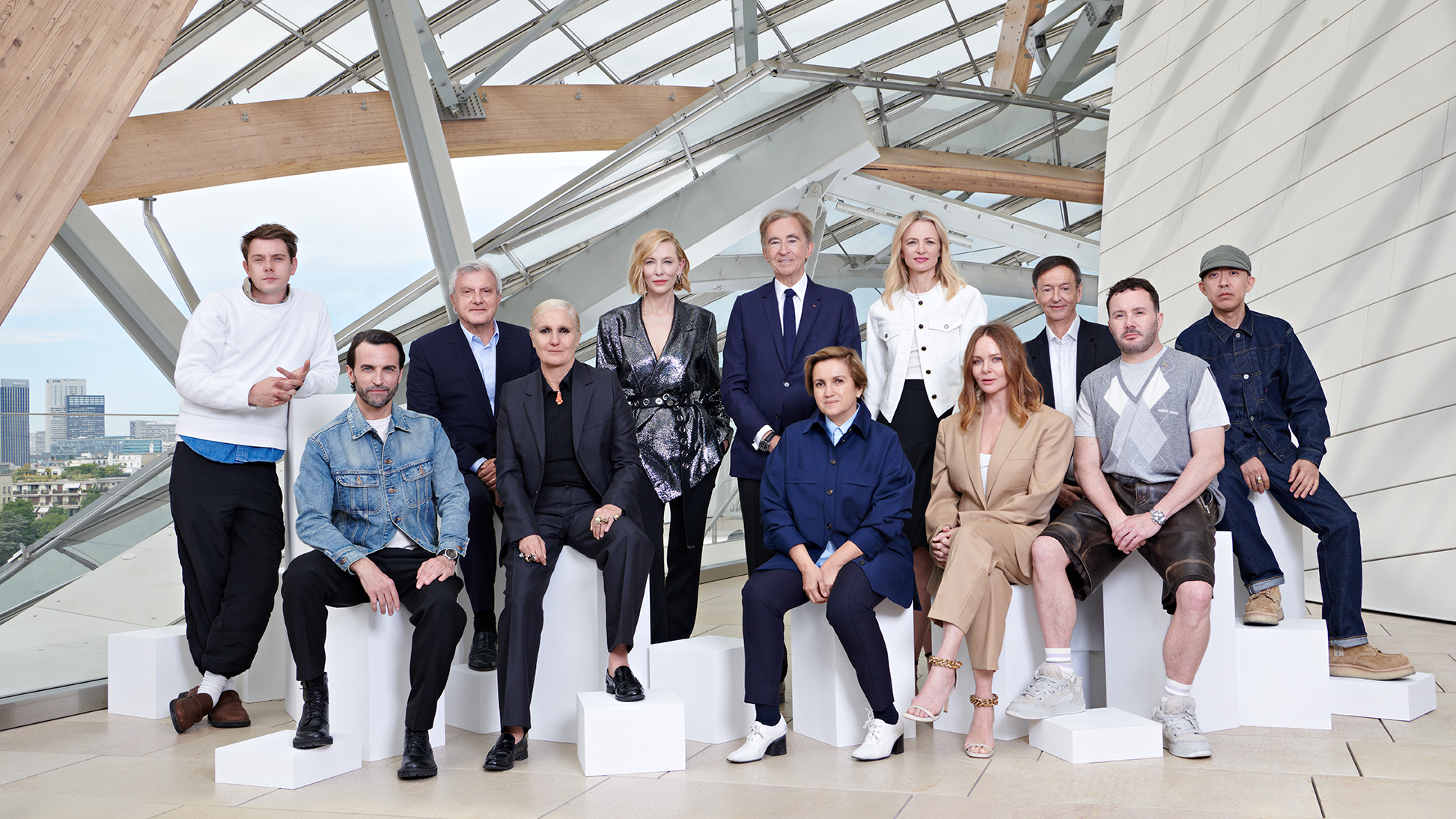 The members of the 2023 Jury
Nigo
Artistic Director of Kenzo
Nigo started his first independent clothing label in Tokyo in 1993 and went on to change the landscape of global street culture.
Working simultaneously in the worlds of fashion and music, with acute sensitivity to detail and through frequent collaboration with some of the best known companies and creative individuals in the world, he has innovated new ways for fashion to relate to its audience that have since become industry standards.
In 2020, he produced a magnificent capsule with Virgil Abloh for Louis Vuitton.
Jonathan Anderson
Artistic Director, Loewe
Jonathan Anderson was born in Northern Ireland in 1984. His initial aspirations to become an actor were quickly replaced by a fascination with costumes. He went on to study menswear at the London College of Fashion.
His brand, J.W. Anderson, was first launched in 2008 with a menswear collection, and, in 2010 with his first womenswear capsule collection. The collection was an immediate success. Since, Jonathan Anderson likes to blend his womenswear and menswear into the same show.
Anderson's menswear, womenswear and accessory collections propose a modern interpretation of style, gender and dress. Enforcing a genderless symbiosis, archetypes, silhouettes and textiles are audaciously ripped-up and resurrected.
In September 2010 he was named Creative Director of the menswear brand Sunspel and won, a year later, the NEWGEN MEN's catwalk sponsorship for Autumn/Winter 2011.
Jonathan Anderson designed his first ready-to-wear high street collection during his collaboration with Topshop in September 2012, before collaborating with Versus. That same year he won the British Fashion Award for Emerging Talent, Ready-to-Wear.
In 2013, LVMH bought a minority stake into his label and he was named Creative Director of LVMH's Maison Loewe.
DELPHINE ARNAULT
Chairman and Chief Executive Officer of Christian Dior Couture
Delphine Arnault is a graduate of the EDHEC business school and the London School of Economics.
She began her career with the consulting firm McKinsey & Co. before joining the LVMH Group in 2000.
In 2001 she became a member of the Executive Committee of Christian Dior Couture, where she has been Deputy Managing Director between 2008 and 2013.
In September 2013 she was named Executive Vice President of Louis Vuitton, overseeing all Louis Vuitton product-related activities.
Since February 1, 2023, Delphine Arnault has been Chairman and Chief Executive Officer of Christian Dior Couture.
She is a member of the LVMH Board of Directors and of the Executive Committee.
Maria Grazia Chiuri
Artistic Director, Dior
Maria Grazia Chiuri is the first woman to run the creation of Dior. She showed her debut collection of the maison at Paris Fashion Week in September 2016. Her audacious and feminine vision – she uses the word "feminist" recurrently - explores the rules of modern beauty.
She studied at Istituto Europeo di Design in Rome. In the early 1980s, she met Pierpaolo Piccioli and when she joined Fendi as a designer in 1989, she drafted in Piccioli to work alongside her in the accessories department.
In 1999, she joined Valentino as an accessory designer, quickly bringing on board her creative partner. After revamping the brand's handbag and eyewear collections, they were selected to design its Red diffusion line in 2003 and later given responsibility over the brand's entire accessories range. They were named co-creative directors in 2008.
In 2015, Chiuri and Piccioli received the CFDA International Award.
JEAN-PAUL CLAVERIE
Advisor to Bernard Arnault and Director of Corporate Sponsorship at LVMH
Jean-Paul Claverie, after attending both the faculty of law and of medicine, enters Jack Lang's office, Minister of Culture and Communication, where he occupies in turn the positions of official representative for international cultural relations and Special Adviser to the Minister himself. Having played an active role in the preparations for the celebrations surrounding the Bicentenary of the French Revolution in 1989, he takes the conscious decision in the early 1990s to make the switch to the world of business. This variety of functions fulfilled in the service of the State has indeed enabled Jean-Paul Claverie to develop an in-depth and innovative view of the role of the company within society as a whole - in terms of the economy, of course, but from the social, cultural and educational aspects as well.
In the summer of 1990, Jean-Paul Claverie had a meeting with Bernard Arnault, who had only recently been appointed Chairman of LVMH, which was to prove decisive. In 1991 he joines LVMH as Adviser to the Chairman. He suggests to Bernard Arnault an extremely original global institutional communication strategy based on culture, creativity, know-how, the art of living, youth and solidarity. For LVMH, this communication is effected by means of large-scale initiatives of general interest and sponsorship, in which the economic success of the Group can bring benefit to the greatest possible number. This innovative approach has two main objectives: to express the values of know-how of French creativity as a player throughout the world in the expression of the French art of living, and at the same time to establish the identity of LVMH by means of projects aimed at all publics, especially young people. 30 major national and international exhibitions will be staged or instigated with the Réunion des Musées nationaux, the Pompidou Centre or the Modern Art Museum of the City of Paris, along with actions to enrich or restore the national heritage. A novel campaign for the benefit of young people has also been running with the inclusion of thousands of young people in academic competitions, study bursaries and educational classes, or again, aid towards the training of young amateur musicians along with assistance for new virtuosi such as Maxim Vengerov in the form of the loan of Stradivarius instruments from the Group's collection.
Humanitarian activities also form an important part of LVMH sponsorship, in the form of support provided for the elderly, for sick children and for medical research.
In October 2006, this development reaches a recent achievement with the announcement of the Louis Vuitton Foundation which will be located in Paris in a building designed by the famous American architect Frank Gehry.
Silvia Venturini Fendi
Artistic Director of Fendi accessories and menswear
In 1992, Silvia Venturini Fendi, third generation of the Fendi family, joined the company and seconded Karl Lagerfeld in the Artistic Direction.
In 1994 she was given the responsibility of Accessories and then of the Menswear lines.
Kim Jones
Artistic Director of Men's Collection, Dior & Creative Director, Fendi
Jones studied graphics and photography at Camberwell School of Art before enrolling in the MA Fashion course at Central Saint Martins, studying menswear. He graduated in 2002. In 2011, Jones was named the new style director of the men's ready-to-wear division at Louis Vuitton. On 17 January 2018, it was announced that Jones would be leaving Vuitton as men's artistic director, after showing his final collection, A/W18, the following day. On 19 March 2018, Kim Jones was announced as creative director of Dior Homme. In September, 2020 Jones was announced as also taking the role of Artistic Director of Fendi's womens collection, formerly occupied by Karl Lagerfeld.
Stella McCartney
Artistic Director, Stella McCartney
Stella McCartney founded her eponymous luxury lifestyle brand in 2001. Stella's approach to design emphasizes sharp tailoring, natural confidence and an effortless attitude. The brand is committed to being an ethical and modern company, believing it is responsible for the resources it uses and the impact it has on the environment. It is therefore constantly exploring innovative ways to become more sustainable, from designing to store practices and product manufacturing. As a lifelong vegetarian, Stella McCartney never uses any leather, fur, skins or feather in any products for both ethical and environmental reasons, setting a standard for the use of alternative materials. Supporting circularity, the brand is embracing new business models that will transform how clothes are produced, sold, shared, repaired and reused; promoting long lasting product with extended use to reduce environmental impact.
The brand now offers women and menswear ready-to-wear, as well as handbags, shoes and a kids line. It has also developed under licensing eyewear, lingerie, swimwear, fragrances and a long-term partnership with Adidas. The collections are currently available in more than 100 countries at wholesale, and through 60 freestanding stores including London, New York, Los Angeles, Paris, Milan, Tokyo, Hong Kong and Shanghai.
SIDNEY TOLEDANO
Chairman and Chief Executive Officer LVMH Fashion Group
Sidney Toledano was born in Morocco on July 25, 1951.
He is an Engineer graduate of Ecole Centrale de Paris.
Sidney Toledano spent his early career as marketing consultant at Nielsen International, then he joined Kickers as General Secretary in 1982. In 1984, he was appointed Managing Director of Lancel.
In 1994, Sidney Toledano joined Christian Dior Couture as Director of the Leather Goods Division before becoming Managing Director in charge of the international development in 1996. In 1998, he was appointed Chairman and Chief Executive Officer of Christian Dior Couture to pursue the development of the brand and put Christian Dior at the forefront of the most famous brands in the luxury sector. He was appointed Vice President, Managing Director and Board member of Christian Dior S.E.
In February 2018, he was appointed Chairman and CEO of LVMH Fashion Group, which includes numerous prestigious brands (Celine, Givenchy, Loewe, Emilio Pucci, Kenzo, Marc Jacobs, Nicholas Kirkwood, Rossimoda, Jean Patou). He also becomes a member of the LVMH Executive Committee.
Sidney Toledano is Vice President and member of the board of the Institut Français de la Mode and the Comité Colbert. He's a member of the Management Committee of the Chambre Syndicale de la Haute Couture and member of the Fédération française de la Couture Executive Committee.
Sidney Toledano has been awarded the honorary titles of Chevalier dans l'Ordre National de la Légion d'Honneur and Officier dans l'Ordre National du Mérite. He was decorated by His Majesty King Mohammed VI of Morocco as Officer of Wissam Al-Arch distinction in 2007.
marc jacobs
head designer of Marc Jacobs
Marc Jacobs created Marc Jacobs International with Robert Duffy in 1984, basing the brand on two very simple concepts: a love of fashion and a commitment to quality. Finding the perfect balance between tradition and innovation, highlighting Jacobs' exuberant creativity, the brand has become a driving force in the industry. With the addition of Marc by Marc Jacobs in 2001, Marc Jacobs International now offers two complete lines of ready-to-wear and accessories. Part of a generation that's conscious of the world around it, sensitive to humanitarianism and social entrepreneurship, Marc Jacobs has made its mark as rebellious, unpredictable, original, unique, and authentic all at the same time. Committed to the communities around them, Marc Jacobs International leads by example, supporting over 75 charities and organizations around the world.
nicolas ghesquière
Artistic Director of Women's collections at Louis Vuitton
Nicolas Ghesquière was born in Comines in the north of France in 1971.
At the age of 15, he learned his way into the fashion business through various internships. After completing his studies he started as design assistant to Jean Paul Gaultier in 1991.
In 1995 he joined Balenciaga where he was appointed creative director in 1997 and was quickly acclaimed for his sculpted, futuristic silhouettes and Parisian chic. For three seasons he designed for different companies including the Italian based house of Callaghan.
In October 2001 he received the CFDA "International Designer" award. In 2006 he was elected by Times Magazine as one of the 100 most influential persons in the world and he was made "Chevalier des Arts et des Lettres" in 2007 by the French government.
He is hailed as one of the most intriguing designers of his generation and is widely credited for launching trends that have resonated throughout the world.
On November 5th, 2013, Nicolas Ghesquière joined Louis Vuitton where he was appointed Artistic Director of Women's collections.
In November 2014, a year after his arrival at Louis Vuitton, he was awarded Fashion Innovator of the year by the Wall Street Journal, then in December he received the British Fashion Award for best international designer of the year.
中国
LVMH Prize是由LVMH集团专为发掘和支持新锐时尚设计师而设的奖项。
由集团旗下品牌设计师组成的评委会每年评选一位"年度新秀"。为令设计新秀得以全面发展其创作工作,LVMH集团将为获奖者提供:
- 一份价值300000欧元的奖金
- 在集团内部为其提供个性化技术指导与财务支持,从颁奖之日算起,为期十二个月,内容涵盖新锐时尚品牌所涉及的所有专业领域(知识产权、采购、生产和经销、品牌形象与沟通宣传、市场营销......)
与此同时,还会挑选三名年轻的应届毕业生。他们将获得一份价值10000欧元的奖金,以及在集团旗下某一品牌设计团队中工作一年的机会。
申请条件:
- 年龄介于18至40岁之间。
- 已设计并销售至少2个男士或女士时尚系列(配饰除外)。
申请此奖项的应届毕业生必须在颁奖当年(2015年)在一所时尚院校完成至少三年课程并获得文凭。
为方便推广,大奖赛官方语言为法语和英语。
如有必要,您也可在精通英语的朋友帮助下报名参赛!
欢迎报名
LVMH Prize团队

日本
「LVMH Prize」はLVMHが創設した賞であり、若手ファッションクリエーターの育成・支援を目的としています。 審査員を務めるのはメゾンの著名なクリエーターたちであり、毎年、その年に活躍した才能溢れる新人を1名選出します。受賞者の作品制作を実現するための経済支援として、LVMHは以下の副賞を贈呈します : - 賞金300,000ユーロ - 受賞者に合わせた技術面・資金面でのフォローアップ。グループ内で、「LVMH Prize」受賞から12か月の期間、新たなファッションブランドに必要なあらゆる専門的ノウハウを要する分野(知的所有権、ソーシング、生産および流通、イメージおよびコミュニケーション、マーケティングなど)におけるフォローアップが行われます。 並行して、専門教育を修めた若手3名が選出されます。この3名には、賞金10,000 ユーロおよび、1年間、グループ内のメゾンのひとつでクリエーション部門に所属することができるLVMHとの契約が贈呈されます。 応募要項は以下の通りです : - 応募者は18歳から40歳であること。 - 応募者は、メンズまたはレディース ファッション (アクセサリーは除く)において少なくとも2コレクションの製作および商品化の経験があること。 専門教育修了者部門に応募の場合、応募者はファッション専門学校で3年以上の教育課程を修了した旨の卒業証書を授賞年(2015年)に取得しなければなりません。 「LVMH Prize」の公用語は、フランス語と英語です。 必要があれば、英語を話すお知り合いの方にもご相談ください。皆様のご参加をお待ちしています! 健闘をお祈りしています。 「LVMH Prize」チーム
الصين
إنّ جائزة "LVMH Prize " هي جائزة أنشأتها مجموعة LVMHلاكتشاف مصممي الأزياء الناشئين ودعمهم.
تنتقي لجنة تحكيم مرموقة تتألف من مصممي دور الأزياء، سنويا، موهبة العام الجديدة. تتيح مجموعة LVMH الفائز تنمية عمله الإبداعي، بإهدائه ما يلي :
- منحة تقدّر بــ 300،000 يورو
- متابعة تقنية ومالية مشخصة ضمن المجموعة مدتها 12 شهرا ابتداء من تاريخ منح جائزة "LVMH Prize "، في جميع مجالات الخبرة التي تهم أيّ علامة موضة ناشئة (الملكية الفكرية، توفير المصادر، الإنتاج والتوزيع، الصورة والاتصالات، التسويق ، الخ).
- كما سيتم انتقاء ثلاثة خريجين ليستفيدوا من منحة تقدر بــــ 10،000 يورو ومن عقد مع مجموعة LVMH يسمح لهم بالانضمام إلى الفريق الإبداعي لإحدى دور المجموعة لمدة سنة.
للمشاركة يجب استفاء الشروط التالية:
- أن يتراوح عمر المترشح بين 18 و 40 عاما.
أن تكون له على الأقل خبرة في تصميم وتسويق مجموعتين موضة رجالية أو نسائية (دون الأكسسوارات).
للتقدم للفوز بجائزة الخرجين، يجب الحصول على شهادة دراسية بثلاث سنوات في مدرسة موضة، عام الجائزة 2015.
إنّ الفرنسية والإنجليزية هما اللغتان الرسميتان للطبعة الأولى من الجائزة.
اطلبوا مساعدة ناطق باللغة الإنجليزية، إن اقتضى الأمر، ندعوكم للمشاركة!
بالتوفيق
فريق جائزة "LVMH Prize "

РУССКИЙ
LVMH Prize – это премия, учрежденная группой LVMH с целью поиска и поддержки молодых дизайнеров.
Каждый год авторитетное жюри, в состав которого войдут дизайнеры знаменитых Домов, будет выбирать лучшего молодого дизайнера года. Для развития его творческой деятельности группа LVMH предоставит лауреату:
- денежный приз в размере 300 000 евро;
- индивидуальную техническую и финансовую поддержку от группы в течение года после получения премии LVMH Prize по всем вопросам, которые интересуют молодую модную марку (интеллектуальная собственность, выбор поставщиков, производство и распределение, имидж и связи с общественностью, маркетинг…).
Жюри также определит трех лучших молодых дипломированных специалистов. Победители получат приз в размере 10 000 евро и годовой контракт с LVMH, который позволит им стать частью творческой команды одного из Домов группы.
Кандидаты должны отвечать следующим критериям:
- им должно быть от 18 до 40 лет;
- они должны создать как минимум 2 модные коллекции для мужчин или женщин (за исключением аксессуаров).
Чтобы участвовать в конкурсе в качестве дипломированного специалиста, кандидаты должны предоставить диплом, свидетельствующий о завершении к 2015 году (году проведения конкурса) по меньшей мере трехлетнего курса обучения в школе моды.
Официальными языками Премии являются французский и английский.
Если необходимо, попросите англоговорящего знакомого Вам помочь. Мы будем рады, если Вы примете участие в конкурсе.
Удачи!
Команда премии LVMH Prize