SHORTLISTED 2014 EDITION
Amaka Osakwe
MAKI OH
Amaka Osakwe studied at the Arts University Bournemouth where she received a BA in fashion studies. In autumn/winter 2010 she launched her label. Inspired by rural Ghana's Dipo rites-of-passage ceremony, during which girls taking part are partially naked and ornately adorned, Amaka Osakwe has played with cloaking and ornamentation using traditional African fabrics.[3] Recently her label was discovered by the U.S. fashion scene in 2012, when she presented her designs at the New York Fashion Week.[4] She relates the legacy of their country with one, if they dyed their brands by hand with indigo leaves and painted the pattern with a paste made from cassava. Adire is the traditional method.
nternational stars such as singers Beyoncé and Rihanna or Hollywood actress Kerry Washington have discovered the Nigerian designer outfits for themselves. U.S. First Lady, Michelle Obama, well-known being a style icon, wore during summer 2013 trip to South Africa a blouse of Nigerian designer Maki Oh.[5][6] Her designs also have been worn by the likes of Solange Knowles and Leelee Sobieski and by Nigerian TV presenter Eku Edewor.
One signature of her brand is that it's dyed by hand using the traditional textile arte process Adire. Another is her way of combining Western silhouettes and native materials and motifs—to wit, a lace-blouse-and-pencil-skirt set appliquéd with unsettling raffia eyeballs.[7]
She was named Designer of the Year by African fashion magazine ARISE.
first collection
Fall / Winter 2010
stockists
Dover Street Market (Tokyo, London, NY)
Opening Ceremony (NY, LA)
Blake (Chicago)
Mameg (LA)
Les Suites (Paris)
Gago (Aix en Provence)
Seven (Kharkov, Ukraine)
Permanent Modern (Kumamoto-city, Japan)
Arts and Science (Tokyo)
Mimosa (Saudi Arabia)
Harvey Nichols (HK)
Boon the Shop (Seoul)
LATEST COLLECTIONS
LATEST STORIES
Nigerian designers use Fashion Week to promote traditional textiles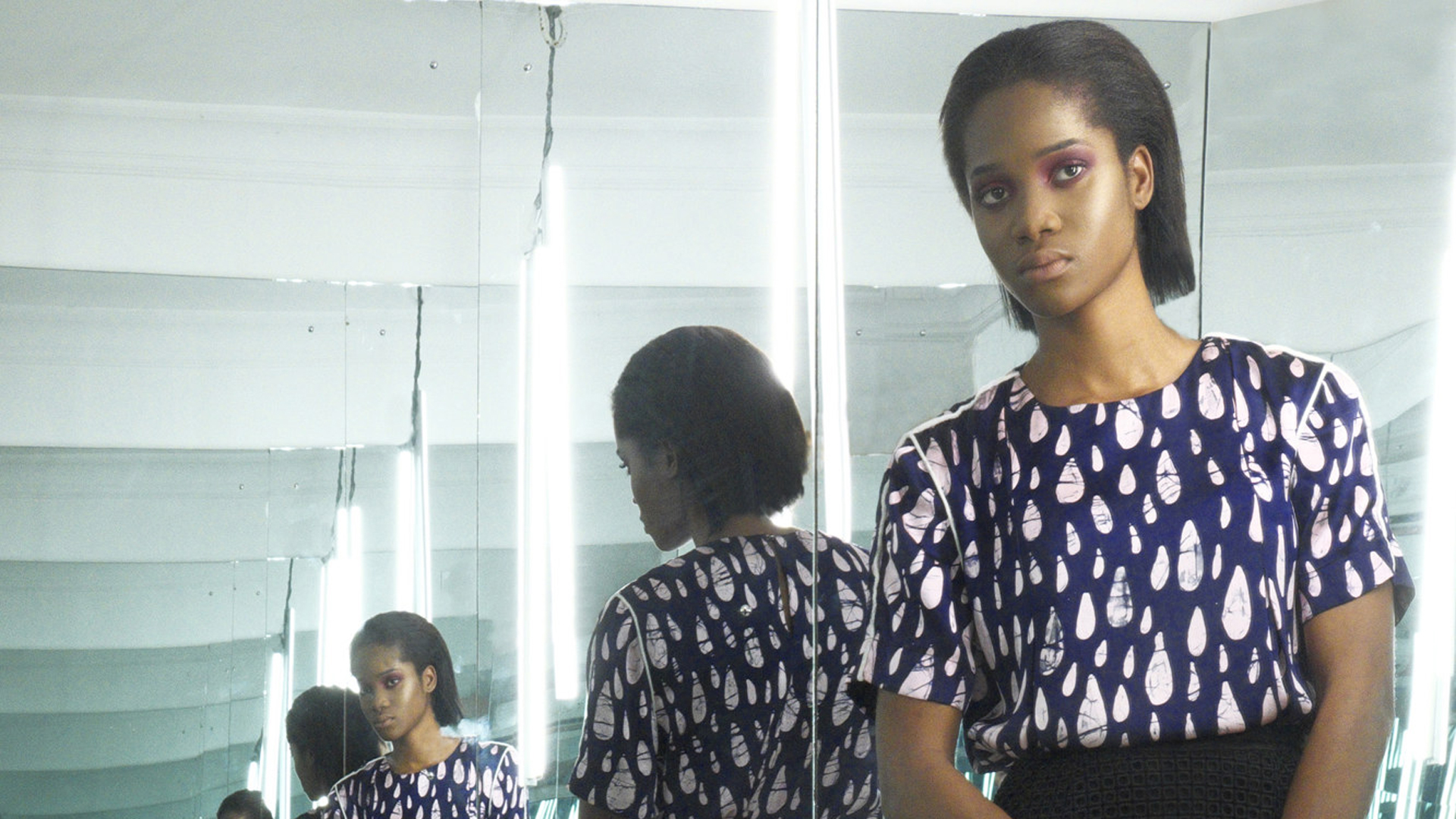 Mako Oh, Orange Culture & 'Suno' make the 30 finalists in competition for the LVMH Prize
Read the article
中国
LVMH Prize是由LVMH集团专为发掘和支持新锐时尚设计师而设的奖项。
由集团旗下品牌设计师组成的评委会每年评选一位"年度新秀"。为令设计新秀得以全面发展其创作工作,LVMH集团将为获奖者提供:
- 一份价值300000欧元的奖金
- 在集团内部为其提供个性化技术指导与财务支持,从颁奖之日算起,为期十二个月,内容涵盖新锐时尚品牌所涉及的所有专业领域(知识产权、采购、生产和经销、品牌形象与沟通宣传、市场营销......)
与此同时,还会挑选三名年轻的应届毕业生。他们将获得一份价值10000欧元的奖金,以及在集团旗下某一品牌设计团队中工作一年的机会。
申请条件:
- 年龄介于18至40岁之间。
- 已设计并销售至少2个男士或女士时尚系列(配饰除外)。
申请此奖项的应届毕业生必须在颁奖当年(2015年)在一所时尚院校完成至少三年课程并获得文凭。
为方便推广,大奖赛官方语言为法语和英语。
如有必要,您也可在精通英语的朋友帮助下报名参赛!
欢迎报名
LVMH Prize团队

日本
「LVMH Prize」はLVMHが創設した賞であり、若手ファッションクリエーターの育成・支援を目的としています。 審査員を務めるのはメゾンの著名なクリエーターたちであり、毎年、その年に活躍した才能溢れる新人を1名選出します。受賞者の作品制作を実現するための経済支援として、LVMHは以下の副賞を贈呈します : - 賞金300,000ユーロ - 受賞者に合わせた技術面・資金面でのフォローアップ。グループ内で、「LVMH Prize」受賞から12か月の期間、新たなファッションブランドに必要なあらゆる専門的ノウハウを要する分野(知的所有権、ソーシング、生産および流通、イメージおよびコミュニケーション、マーケティングなど)におけるフォローアップが行われます。 並行して、専門教育を修めた若手3名が選出されます。この3名には、賞金10,000 ユーロおよび、1年間、グループ内のメゾンのひとつでクリエーション部門に所属することができるLVMHとの契約が贈呈されます。 応募要項は以下の通りです : - 応募者は18歳から40歳であること。 - 応募者は、メンズまたはレディース ファッション (アクセサリーは除く)において少なくとも2コレクションの製作および商品化の経験があること。 専門教育修了者部門に応募の場合、応募者はファッション専門学校で3年以上の教育課程を修了した旨の卒業証書を授賞年(2015年)に取得しなければなりません。 「LVMH Prize」の公用語は、フランス語と英語です。 必要があれば、英語を話すお知り合いの方にもご相談ください。皆様のご参加をお待ちしています! 健闘をお祈りしています。 「LVMH Prize」チーム
الصين
إنّ جائزة "LVMH Prize " هي جائزة أنشأتها مجموعة LVMHلاكتشاف مصممي الأزياء الناشئين ودعمهم.
تنتقي لجنة تحكيم مرموقة تتألف من مصممي دور الأزياء، سنويا، موهبة العام الجديدة. تتيح مجموعة LVMH الفائز تنمية عمله الإبداعي، بإهدائه ما يلي :
- منحة تقدّر بــ 300،000 يورو
- متابعة تقنية ومالية مشخصة ضمن المجموعة مدتها 12 شهرا ابتداء من تاريخ منح جائزة "LVMH Prize "، في جميع مجالات الخبرة التي تهم أيّ علامة موضة ناشئة (الملكية الفكرية، توفير المصادر، الإنتاج والتوزيع، الصورة والاتصالات، التسويق ، الخ).
- كما سيتم انتقاء ثلاثة خريجين ليستفيدوا من منحة تقدر بــــ 10،000 يورو ومن عقد مع مجموعة LVMH يسمح لهم بالانضمام إلى الفريق الإبداعي لإحدى دور المجموعة لمدة سنة.
للمشاركة يجب استفاء الشروط التالية:
- أن يتراوح عمر المترشح بين 18 و 40 عاما.
أن تكون له على الأقل خبرة في تصميم وتسويق مجموعتين موضة رجالية أو نسائية (دون الأكسسوارات).
للتقدم للفوز بجائزة الخرجين، يجب الحصول على شهادة دراسية بثلاث سنوات في مدرسة موضة، عام الجائزة 2015.
إنّ الفرنسية والإنجليزية هما اللغتان الرسميتان للطبعة الأولى من الجائزة.
اطلبوا مساعدة ناطق باللغة الإنجليزية، إن اقتضى الأمر، ندعوكم للمشاركة!
بالتوفيق
فريق جائزة "LVMH Prize "

РУССКИЙ
LVMH Prize – это премия, учрежденная группой LVMH с целью поиска и поддержки молодых дизайнеров.
Каждый год авторитетное жюри, в состав которого войдут дизайнеры знаменитых Домов, будет выбирать лучшего молодого дизайнера года. Для развития его творческой деятельности группа LVMH предоставит лауреату:
- денежный приз в размере 300 000 евро;
- индивидуальную техническую и финансовую поддержку от группы в течение года после получения премии LVMH Prize по всем вопросам, которые интересуют молодую модную марку (интеллектуальная собственность, выбор поставщиков, производство и распределение, имидж и связи с общественностью, маркетинг…).
Жюри также определит трех лучших молодых дипломированных специалистов. Победители получат приз в размере 10 000 евро и годовой контракт с LVMH, который позволит им стать частью творческой команды одного из Домов группы.
Кандидаты должны отвечать следующим критериям:
- им должно быть от 18 до 40 лет;
- они должны создать как минимум 2 модные коллекции для мужчин или женщин (за исключением аксессуаров).
Чтобы участвовать в конкурсе в качестве дипломированного специалиста, кандидаты должны предоставить диплом, свидетельствующий о завершении к 2015 году (году проведения конкурса) по меньшей мере трехлетнего курса обучения в школе моды.
Официальными языками Премии являются французский и английский.
Если необходимо, попросите англоговорящего знакомого Вам помочь. Мы будем рады, если Вы примете участие в конкурсе.
Удачи!
Команда премии LVMH Prize